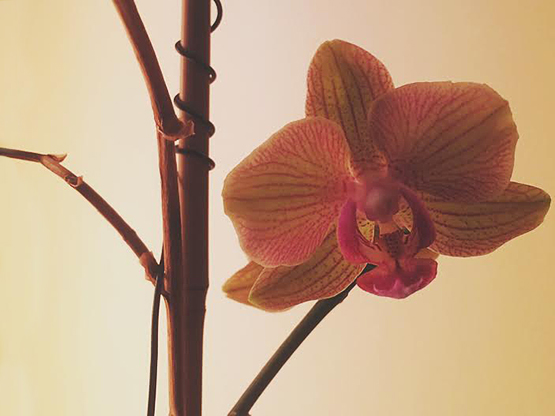 When you enter the creative business you meet some pretty darn cool people. When you grow within the creative business, you take a second to say, "hold-up, why the hell am I getting house gifts from my friends; where did the time go!" Give me a second, before I dig further into the short story about my orchids on this beautiful Tucker Tuesday, please let me share my number one experience in the creative business:
"There's always a lot of learning to do."
See, that wasn't long now was it. The orchids were a gift from Chanda. His last words were, "Don't kill them." In my mind I was like, "They're only flowers, all I have to do is, give them enough water (know how much is enough), sufficient sunlight and they'll be fine." Boy was I wrong. A couple weeks later, they were dead. If only a "How To Take Care Of Orchids" lesson were a part of my applied science course senior year of high-school. – Get on on St. Andrews. According to the linked video, and backed by a sales lady in a Wynwood, Miami plant shop, I'm not supposed to water the plants daily. Apparently, I was killing the plants by being too nice to them. The lady told me to give the orchids three ice cubes a week then ignore them and let them do what they want.
After I had pots filled with support sticks, I left them there because the string around the support stick closest to my vinyl-player made a good support for the radio's antena.
Weeks later something magical happened, the plants began to bud flowers again.
It's the plant gods I tell you!
Now that I'm writing the blog, I'm thinking, "Maybe it's the good music from the vinyls that brought my flowers back to life."….Maybe

Lessons that I take from it: "Life will do what life wants to do.", "Take care of life so that life will last; ask questions when unsure", "Only give orchids three ice-cubes per week.", "Listen to the ladies in the plant shops.", "Don't assume you know how to do something so quickly. – Really know that shit if you never done it before.", "Blame the cat for killing the plants."