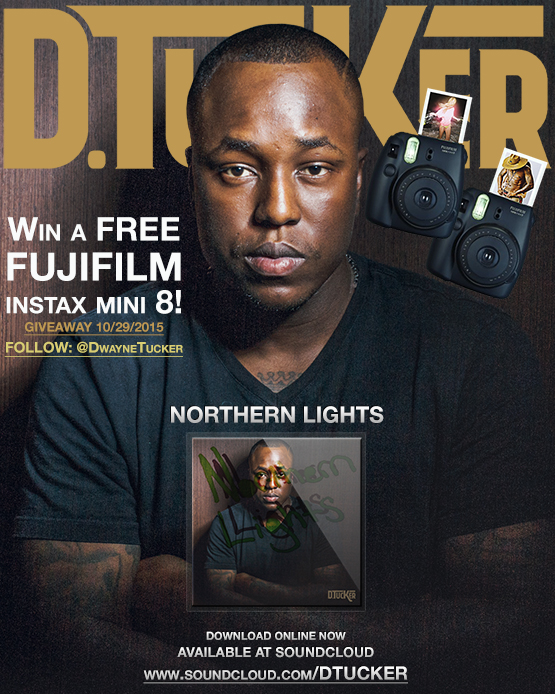 Let's start off with a Happy #TuckerTuesday!
It's a rainy evening here in Miami, I'm sitting at the window watching people run through the streets with umbrellas to their cars. This South Florida weather is wild I tell you!
I've never read a blog where the writer asked the reader, "How was your day?", I try to be different, this website is growing and I plan to remain human over the times, so tell me, how was your day? More than that, tell me about what are you shooting, tell me about what you're being creative at.
Now, I'm excited about the above! If you're finding this link at random, welcome, I'm D. TUCKER. I balance being a Professional Photographer and an Alternative Hip-Hop recording artist.
Yesterday on my SoundCloud I released my latest track, Northern Lights. To celebration, also to help me spread the word about the release, I decided to give back to those who choose to support me by giving away two FujiFilm Instax Mini 8 Camera!
I'll be giving the cameras away to random winners on October 29th, 2015 and I'll announce live on my SnapChat: dtucker305 
It feels beyond awesome to be balancing operation as a Photographer & Musician. Very tiring, and I have to work 10x as hard as the people in postions that I want to be in until I get there. I imagine then the work becomes more. I'm ready for it.
I chose to give-a-way the camera because I love to motivate people to have fun, because with my music, my photography, the number one rule is to have fun.
"We Have Fun" (YACHT)
How TO ENTER?
It's simple to enter, here's how:
1. Follow: @DwayneTucker on Instagram or Twitter.
2. Download Northern Lights and take a screen shot of the downloaded track.
3. Upload the screenshot to Instagram or Twitter (both to increase your chances of winning; hint hint) and tag me in it.
It's that simple!
I hope you enjoy the track.
It's not required but to increase chances more to win, leave a comment of your positive thoughts at the SoundCloud commentary section!
Thanks all for now – Listen Here:
All love,
D. TUCKER