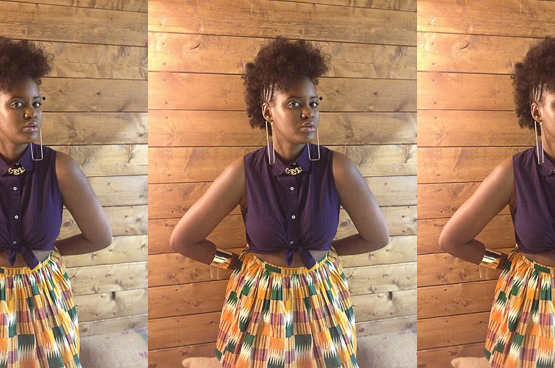 Kamilah Gibson, a childhood friend, an amazing artist, an amazing woman, an amazing songwriter, and an amazing human. Before I continue, the only way for you to "semi-fully" understand what I'm about to write about is for you to click play on her most recent song, 1600 Miles,and be amazed; don't get mad at me when you start to ask yourself, "Why haven't I heard about Kamilah Gibson before!"
A childhood friend – Kamilah & I attended middle-school / high-school together in the Bahamas. It was in her early stages of her music that I said to everybody, as I'm going to say to you now, (back then) she is the next Lauren Hill of our generation; now, she's, Kamilah Gibson.
I didn't mention yesterday when I shared the TuckerTuesday post why I missed last week's New Music Wednesday on the blog – it was because we were changing real world locations and moving is a bitch; my apologies and thank you for coming back. This was the post that I was going to share last week when she released the track, but, I'm not mad about sharing it today because of another special event today, my mother's birthday (Happy Birthday again mom; I know it's only you reading my blog anyway

).
Now what does my mother birthday have to do with this track about Kamilah Gibson? When we were in high-school, Kamilah and I wrote a track dedicated to mothers, titled, "Much Thanks To My Mom". If you have a CD of that song please email me to dwayne[at]dwaynetucker[dot]com and send me a copy; please. I've been wanting to listen to that track for awhile; next time I return to the island I have to dive deep into the old Compaq Desktop and see what I can find from the Cool Edit Pro files. (That's how far she and I go back.)
Before you think that I'm blabbing way too much, please take a listen to the track 1600 Miles by Kamilah Gibson:
Okay, see, it's not me just talking, the lady can frickin' sing! She has superpowers I tell you. From the moment she open her mouth, the first word that come out while she's singing, every time, I mean every frickin' time, I'm hypnotized; I fall in love with her voice all over again.
I have the video on repeat as I write this entry with the biggest smile on my face yo; I'm so proud of my sister, and I'm excited for what's to come for her. She is a creator of world class music; top-shelf music; classics.
Trust me, she is going to go far, it's only a matter of content and time. (Mark these words.)
An amazing artist – Let's see, hmmm, Piano, Guitar, Amazing Vocalist, Painter, other things that I'm sure I'm missing that she might surprise me with (but I wouldn't be surprised at all because when she puts her mind to something, it happens.)…
I remember when Kamilah got her first guitar, she was super excited, she called me and said, "Dwayne I got a guitar and I'm going to learn how to really play this thing."
About two days later, I visited her house, she's playing as if the guitar came out of the womb with her in her hands; seriously though. To her it was just strumming a few cords, to me, I was like yeah she's going to be extra dope. Another day went by; she's singing and playing at the same damn time. Smh. She's an amazing artist yo.
An amazing woman | An amazing songwriter – Gents, let us be real a second, any woman singing "love-notes" alike this…yeah…you know where I'm going with that. If you don't then it's, any woman singing "love-notes" to you like this is a frickin' keeper; duh.
Dive deeper into the lyrics.
1600 Miles Lyrics by: Kamilah Gibson
I'm close to you in my dreams
I watch your chest rise and fall as you sleep
If I close my eyes tight enough I can hear you breathe
But when I wake up you're nowhere near me
With these 1600 miles between us
1600 miles
And when all I want is you
These 1600 miles just won't do
I get by on memories
Of your honey kiss and my shaky knees
How much I love you, baby, I cannot believe
But you're not here, darlin', you're not here
And it's killing me
With these 1600 miles between us
(There's)1600 miles
And when all I want is you
These 1600 miles just won't do
(Oh Cuz) Sleeping on your chest
is the best kind of sleep I ever get
I hear your heart and my body falls at ease
How much longer 'til I touch you, baby please
It's getting hard for me (with these)
1600 miles
1600 miles
And when all I want is you
These 1600 miles
Said when all I need is you
These 1600 miles
Said, when all I want is you
These 1600 miles just won't do
They won't do
They won't do
—-
An amazing human; this is years of friendship talking, connect with Kamilah on the following listed below to keep in-contact as she make every "mile" of her journey worth it.
Facebook: /KamilahMusic
Instagram: kamilahmusicx
Twitter: @Kamilah_Music_
(Kamilah, I'm super proud of you sis, keep on making that awesome music that you do. The world needs it.)
All love,
Dwayne
Twitter: DwayneTucker
"If you read this please like using the facebook button below so I know who's reading; see you next week Wednesday for more new music! YACHTLIFE!"